Products
For Marine Cranes click here.
For Used Equipment click here.
Power Units
New PHE Off-the-Shelf or Custom Power Units
PHE fabricates our own power units in house. We supply either standard "off the shelf" models or we will custom fabricate one specific to your needs.
Hydraulic over: Electric, Diesel or Gas
Any size and any configuration.
Diesel Power Units For Immediate Rental
Available immediately. Units up to 90 HP. We will tailor the pump to your hydraulic specs. Call or eMail today! Rent to own options also available. Rent for as short or as long as your job requires. Please ask about delivery to your job site.
New Winches
Custom Winch Systems for all applications
Planematic and Planetary Drives
Winches off the shelf 1,000 lb to 75,000 lb line pull
We manufacture and install level winds
All sizes of winches and capstans
Complete systems to meet your specifications
Professional Installation and all around support
WINCHES IN STOCK See homepage.
Remote Control
Remotely control all of your hydraulic equipment.
Available in...
Fully remote with "belly pack style" control pack.
Tethered "pendant style" control pack or add remote stations to your existing set up.
Don't be stuck behind a console!
Safely run your equipment with the ability to be in a better line of sight. Push button stop features allow you to remotely shut down equipment in case of machinery failure or other emergency.
Remotely control and monitor your:
Cranes and Load Cells and other lifting equipment
Winches
Deck Equipment
Fishing Equipment
Power Units and Motor Starters
And Much MORE!!
We can safely and remotely control just about anything.
Weighing Systems, Scales and Load Cells
Crane Scales
Wireless Weighing
Truck Scales Standard, Axel, and Weigh Pads
Dependable Load Cells Custom and Standard
Weigh-In-Motion Systems
Weighing Solutions
Load Cells
Axel Scales
Bulkweighers
Floor Scales
Wheelweighers
Hanging Scales
Digital Printers and Readouts
NEW WIRE SERVICE
Additional to winch and hydraulic services we can sell, we also change and grease your existing wire.
New Bow & Stern Thrusters
Pine Hill also offers a full line of electric and hydraulic bow and stern thrusters.
Hydraulic- 5 TO 160 HP AND 200 TO 4,000 pounds of thrust
Electric- 5 TO 14 HP AND 125 TO 550 pounds of thrust
Aluminum and Bronze finish
New Isuzu Industrial & Marine Equipment
Pine Hill sells and services Isuzu equipment. We provide quality industrial Isuzu power units, engines, pump engines, generator sets and more, including parts for all your Isuzu equipment.
Please contact us for prices.
SPECIALIZED EQUIPMENT
DENIL FISH LADDERS
A Denil fish way or ladder slows down the flow of water to allow fish access over low barriers without causing stress to the species. In the Town of Westport's case, the ladder provides fish with access to a hatchery, which was blocked by a damn.
Our ladder is fabricated from 5052 –1/4" marine grade aluminum. This provides ruggedness but stays relatively lightweight. Dimensions for the ladder are 22.5" X 27.75" (cross-section), and can be made to any length. Contact us today with your specifications.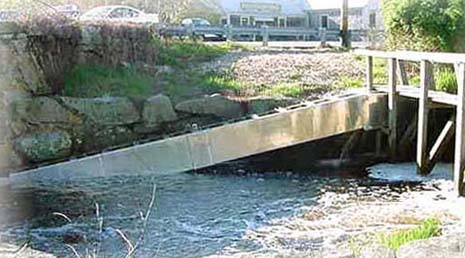 For more information...
Please eMail us or use our request form here.